Entertainment
How An Unplanned Career Change Took Tope Alabi To The Top Of Gospel Music
The year 1994 was an interesting year in Nigeria. General Sani Abacha had just taken over power the year before, Nigeria Airways Flight 9805 crashed and legendary educator Tai Solarin passed on. It was also the year iconic gospel singer Tope Alabi joined the Alade Aromire Theatre Group, with the hopes of becoming a celebrated thespian one day. Little did she know that this singular decision would alter the course of her life. 
Born on October 27, 1970, one of Tope Alabi's earliest memories is of her mother singing. Perhaps that influenced her eventual career choice in some way but she originally started out working in TV. After obtaining her secondary school certificate from Akinyele Memorial High School in Ibadan, she went on to study mass communication at The Polytechnic, also in Ibadan. She graduated in 1990. 
However, she was already plotting a career in theatre and film before attending the polytechnic. Whilst in secondary school, she joined the "Jesters International group," a band of touring comics co-led by Nollywood comic Kayode Olaiya aka Aderupoko. This was where she got her first taste of life in the entertainment business. After securing her degree, she worked as a correspondent at NTA Ibadan and and later NTA Channel 10 in Lagos. Bills don't pay themselves. 
Fast forward to 1994 and she makes another play at returning to theatre and drama. This time, she joined the Alade Aromire Theatre Group, led by late Yoruba film pioneer Alade Aromire. It was during her time with the group she learned the art of theatre, drama and film. She was working with the Group on various movie productions as well as stage dramas and the making of sound tracks. 
Soon she found herself writing and composing soundtracks for several Yoruba films of the late 90s, setting up herself as the go-to person for film soundtracks in the Yoruba film industry. She has a unique and easily recognizable voice and could create interesting melodies by combining modern and traditional beats. To-date, Tope Alabi has provided the soundtracks to over 400 Yoruba films.
Her stardom would take another leap in 2000 after she released her debut album Oore ti o common. Prior to this project, she had released singles like Ikoko Dudu, Baba Iwo la k'epe, and a non-gospel version of Oore ti o common. However, it was the gospel version of the makossa-based song that caught fire. Since then, Tope Alabi has released a further ten albums, including one in 2019 – The Spirit of Light – with photographer and singer TY Bello, formerly of the girl band KUSH.  
Tope Alabi
Controversy was waiting for her though. In the late 2000s, rumors started to surface that Tope Alabi was having an affair with her then-spiritual father Prophet Ajanaku. She denied it vehemently (and still does to this day) and parted ways with him. Unfortunately, Ajanaku was found to be suing diabolical tools for his ministry and he passed away in 2014. 
"There was nothing sexual between Ajanaku and I. I was at his church for ministration and I used to contribute my tithe at his church. Before news made the rounds that he was into traditional things, I had parted ways with him 3 years before then," she told Pulse Nigeria in 2014.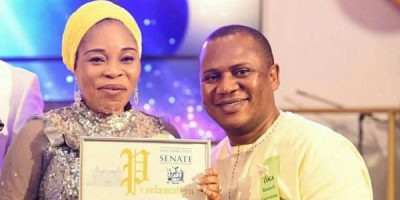 Tope Alabi is married to Soji Alabi, her manager and producer. They've been married for over 20 years and they have two daughters together. "Before I proposed to her, anytime she came around in the studio, I felt good. She is very lively and honest. But I never knew marrying her would have been possible. Even at over 12 years of marriage, I don't regret marrying Tope. She is my choice forever," he said in a 2013 interview with Punch. 
She is currently producing a movie called "The Weight" which she is also starring in. She has also organized the 'Praise the Almighty' concert for the past nine years. In 2019, she told Vanguard: "Me and my husband don't organise the concert to gain anything, other than for people to be blessed. It is a way of giving back to God; to thank Him for all that He has done. That is why it is free. My gain is that I praise God every year." She definitely has a lot to be thankful for.
The post How An Unplanned Career Change Took Tope Alabi To The Top Of Gospel Music appeared first on Nigerian Entertainment Today.
Source:Nig News